Stuart selected for Great Britain Squad
We are absolutely thrilled that Stuart Sharpe has been selected for the GREAT BRITAIN TRAMPOLINE DISABILITY SQUAD!
It's a huge accolade and reward for his efforts and success over the years, including becoming a two-time British Champion last year.
The focus of the squad will be preparation for selection for international competitions, which are due to arranged in 2018. Dawn Lawson, National Coach for Disability Trampolining, said that Stuart's inclusion was part of her "mission to have the best team in the world" although warned him that the hard work doesn't stop yet.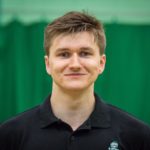 A delighted Stuart himself also wanted to say "HUGE thanks to Alton Trampoline Club and everyone else who has made this possible".
The full squad list is as follows:
| Name | Club | Personal Coach |
| --- | --- | --- |
| Jessica Greaves | Activ8 Trampoline Club | Debbie Danks |
| Nathan Heasman | Jumpers Trampoline Club | Martin Laws |
| Aliyah Huggins | Activ8 Trampoline Club | Debbie Danks |
| William Morton-Hall | Trafford Trampoline Club | Hilbre Hockenhull |
| Breanne Murzyn | Freefallers Trampoline Club | Lisa Parkinson |
| Anya Robinson | City of Plymouth Trampoline Club | Danny Anstey |
| Stuart Sharpe | Alton Trampoline Club | Sylvia Comber |
| Charlotte Tate | City of Leeds Trampolining Club | Dan May |
Congratulations to Stuart and to all of the gymnasts who made the squad – a wonderful accomplishment!
---
by Mike Wakely