Smiles and Somersaults at local Friendly Competition
There were plenty of fantastic performances by our club members as we joined other local clubs at a Friendly competition down the road in Haslemere.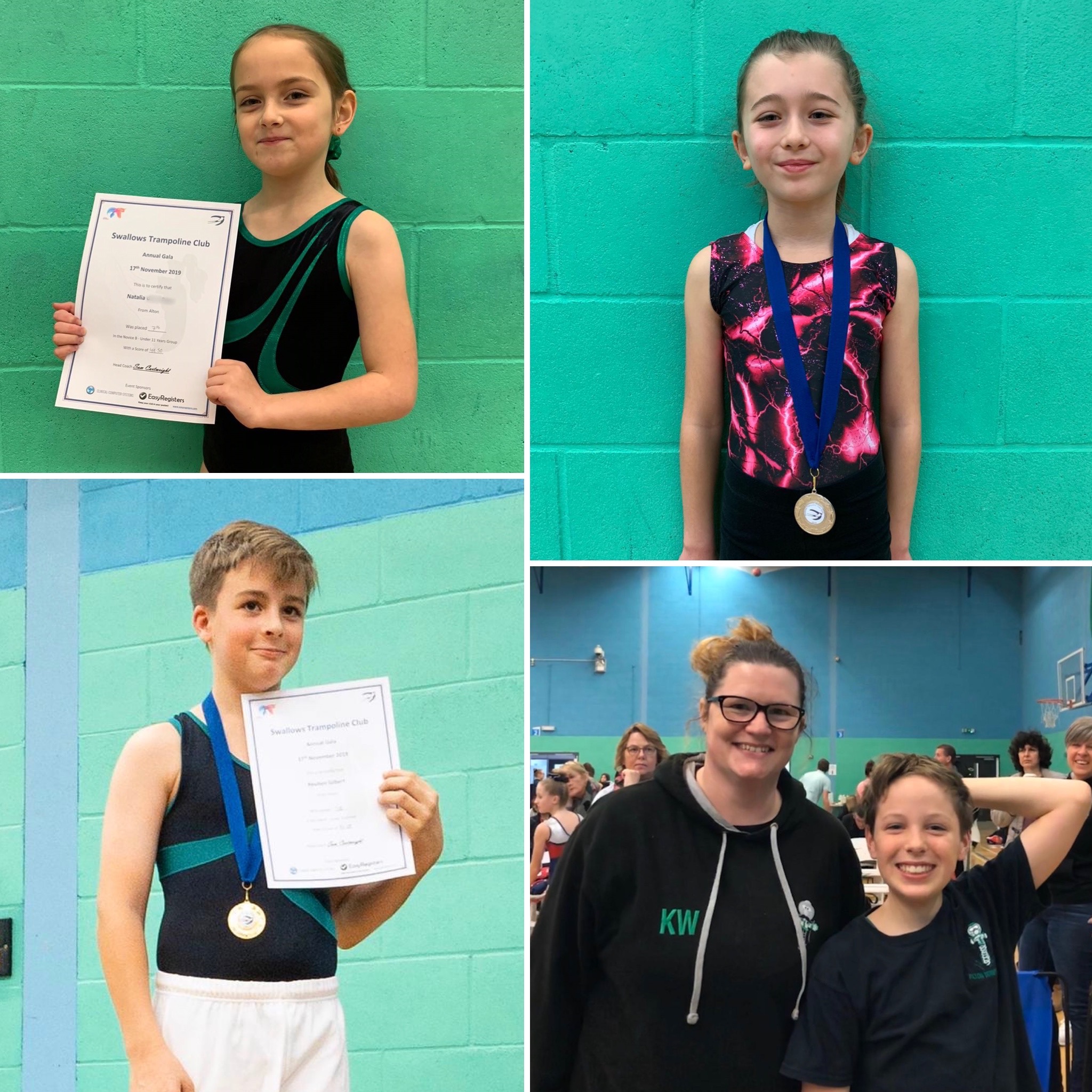 The event was open to all ages and abilities, from Novice up to national-level routines. We had a large number of ATC competitors, with 17 members all taking part and for the majority of these it was their first experience of a Trampoline competition, outside of our own internal event.
In the Novice Under 8s, Gabriela was our youngest competitor and she showed few nerves to complete her routines to come 4th.
In the largest group of the day, the Novice Under 11s, Jay picked up 9th position with Natalia scored slightly higher to finish 7th. There were huge cheers as the results were read out as Chloe came 2nd and was awarded the silver medal for her fantastic routines!
In the Intermediate B Under 13s, Sam came 4th after not quite landing the final move in her second routine, although she did manage to achieve the maximum possible score for HD (so she remained in the centre of the Trampoline throughout both routines without fail!).
The two sisters, Federica and Elena, battled in out in the TPD group. There was little to choose between them, scoring identically in their second routines. It was a successful event for the family, as both girls finished on the podium and Federica's better first routine meant that she received the gold medal and Elena received silver.
In the Advanced A Under 11s, Yasmine, Chloe and William all successfully finished their routines complete with somersaults. Yasmine finished in 4th, just 0.1 off a podium place, with Chloe in 10th and William in 11th.
With just a solitary mark separating the top 10 gymnasts, the Advanced A Under 13s was surely one of the closest groups. Alex, Jessica and Edward finished in 9th, 10th and 11th respectively.
Our other Alex was the highest scoring boy in the Advanced B Under 13s, although the mixed groups meant that he finished in 6th place. Alex was competing the routines he performed at Regional level earlier in the year and demonstrated his improvement by scoring higher than he managed in those regionals.
The Elite categories saw Frankie improve on her previous scores to come 5th in the Under 15s, with Jasmine finishing 8th in the Over 15s. Reuben was attempting a routine with a difficulty more than twice that he had ever competed before, which he successfully negotiated to come away with the top spot on the podium and a gold medal!
It was a really enjoyable day with many parents also praising the event, with Natalia's Mum exclaim that Natalia "loved it and was chuffed with her placing" adding that she was "so proud of her". Chloe's Mum also fed back that that "Chloe really enjoyed herself especially as it was her first comp".
There was so much support throughout, and we'd especially like to thank coaches Kerry and Eloise for spending the day encouraging and looking after all of the members throughout, Mike and Glenda for judging (for Glenda this was her first experience of doing it officially and even ended up judging the Elite Synchronised groups!), and to parents Richard, Melanie and Dominika, along with club members Frankie and Jonty, for giving their time to marshall and look after members. We couldn't have entered so many competitors without our volunteer coaches and officials, and so many offers of help meant that the workload was often spread throughout the day.
Finally, thank you to our own Anne for co-ordinating our entries, and to Swallows Trampoline Club for hosting an enjoyable event. Well done to everyone who took part. With the new competition season nearly upon us, it was great practice for some of our experienced gymnasts, and a glimpse at the future regional and national Alton Trampoline Club competitors. The future is very promising.
| | |
| --- | --- |
| Full results for the event: | |
---
by Mike Wakely