Medal for Scott at National Finals
Congratulations to Scott, who won 3rd place and a place on the podium at the NDP Finals in Telford this past weekend!
It was a just reward for Alton member Scott, who had previously competed in three different National events, coming 5th on each occasion. This time around, Scott, competing in the NDP Level 3 13+ group, achieved his highest ever placing to win his first ever National medal in the sport! Head Coach Mike said: "You can see the improvement Scott has made since the first regional competition in January, and it is clear to see the work he and his DMT coach Sylvia have put in over the past few months. We are all so pleased for him and he deserves that medal."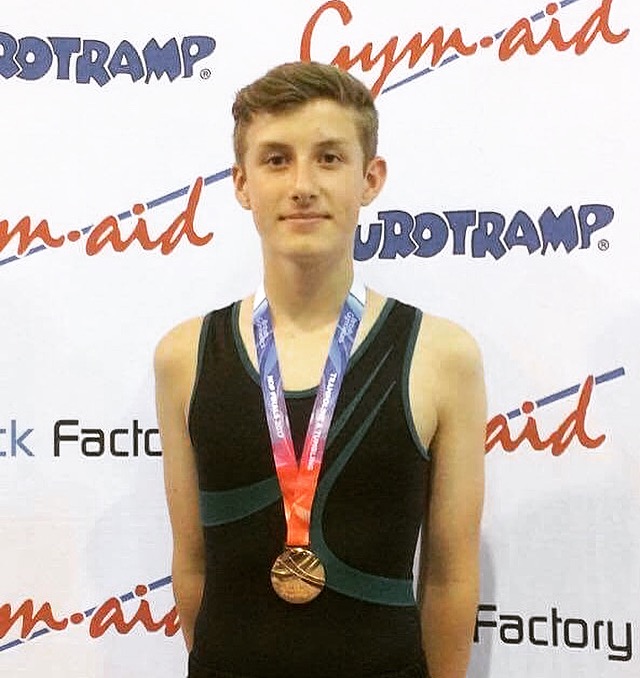 Alton Trampoline Club had three members competing in the Finals, all of whom were taking part in the Double Mini-Trampoline section. Scott, Katherine and Jonty had all earned their place in the Finals following successful performances at three separate Regional and National qualification events throughout the year.
Katherine was competing in her third consecutive NDP Finals, this time in the NDP5 15+ category. It was a close contest with Katherine scoring her season's best, being awarded 9.3 and above from each judge across all of her passes. Despite this, she came 4th, such was the high standard of gymnasts in the group.
Jonty was the youngest ATC member competing, and this was his first experience of the NDP Finals, which saw him finish in 8th place in the NDP2 group.
It was a terrific achievement to have three of our members reach the National Finals and is testament to the increasing quality and number of competitors we have taking part in Double Mini-Trampoline. We are proud of what they, and all of our members this year, have achieved.
Results from the event can be found on the BG website.
---
by Mike Wakely