Alton members put themselves in contention at Birmingham League Competition
It was 4-from-4 as four ATC members took part in the third Trampoline League event of the year, all of them earning League points thanks to some excellent performances, and all four are still in with a chance of qualifying for the League Finals at the end of year!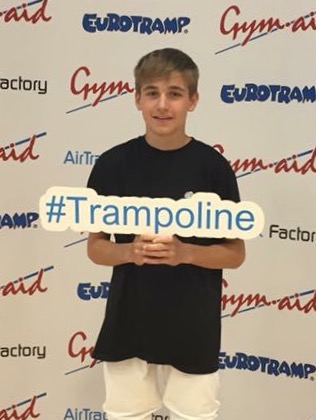 James was competing in his first ever National Trampoline competition and he can be very proud of the routines he completed, including a voluntary with a higher difficulty than any he had competed before. He finished in 9th place in the 15-16yrs League 3 group, earning himself substantial League points.
Chloe Ellis made an excellent account of herself as she competed in the 19+ Female League 3, which was one of the largest groups of the event, consisting of nearly 50 competitors all vying for points. Chloe improved on her score from the previous League competition, finishing in 23rd place and adding to her League score for the season.
Following his successful performance at the Welsh event, Pete Walley went one place better and achieved 4th in the 19+ Male League 3 group. Pete qualified through to the final after coming 7th after the first two routines. He then pulled out an impressive routine with a higher difficulty to move up into 4th. The points he earned from his performance is enough to earn him a place in the League Finals in December even though there's still one more event to go! Well done Pete!
Finally, following a successful season with Portsmouth University, Alec Laurie took part in his first League event. Two solid routines in the higher Mens League 2 group earned Alec League points and place in the final, qualifying through in 7th. He then remained in 7th after completing 9 skills in his final routine. His successful first outing means that he currently sits 12th in the overall League table with one more event to go.
Well done to all of our members on their performances. The Trampoline League themselves, declared the competition as "the largest trampoline qualifying event ever held in Britain", and they all performed brilliantly!
Full results from the event can be found on The Trampoline League website.
---
by Mike Wakely