Alton Junior Volunteer recognised at Hampshire & IOW Sports Awards 2015
The Hampshire and Isle of Wight Sports Awards for 2015 were held on Wednesday 25th March at Southampton Football Club. The awards showcased the high volume of talent in the area, and we were delighted that one of our members, Chloe Foster, was shortlisted for the Junior Volunteer of the Year accolade. Chloe was nominated for the time and commitment she has given to the local community, and the help she has given Alton Trampoline Club, from assisting with coaching to helping out at competitions. To then be shortlisted for the award by the Sports Council is testament to her effort.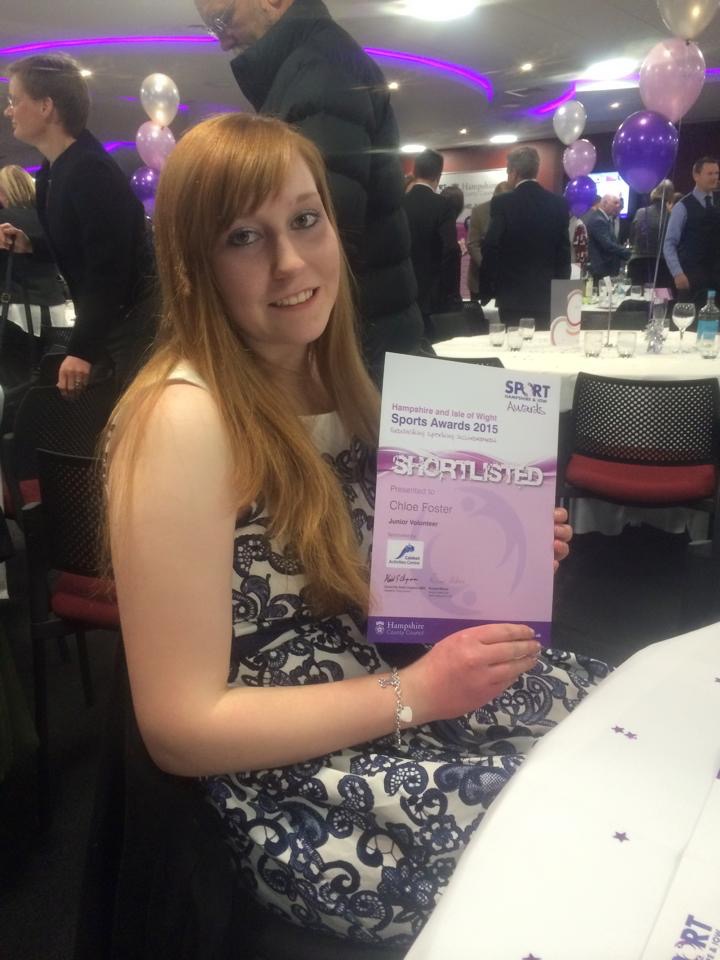 The evening included stories from England Women's Rugby World Cup winner Claire Purdy and British Darts World Champion "Scotty Dog" Mitchell, and was hosted by Kris Temple of BBC South Today, who took the time to talk to every person shortlisted.
Chloe was shortlisted along with Sophie Collins (Equestrian, Eastleigh) and Jessica Muller (Karate, Basingstoke). All three of these youngsters were all deserving of the award, have done a terrific job volunteering in their local communities. Sophie was eventually announced as the winner with Chloe as one of the runners-up. Well done to Chloe, and to Sophie and Jessica too, as being recognised is an outstanding achievement.
Congratulations to everybody who was shortlisted for an award. As well as Chloe's fantastic achievement, special mention as well to our friends over at Swallows Trampoline Club, for joint winning the Club of the Year award, Basingstoke Gymnastics Club for the TeamGym members being runners-up for Senior Team, and to local resident Rory Simpson who was runner-up for Participation Coach in Handball.
Thank you to 'Sport Hampshire & IOW' for organising the event. A full rundown of the results and pictures can be found on their website.
---
by Mike Wakely